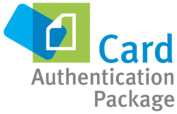 The Card Authentication
Card-based User Authentication and Permissions Management
Package improves security while making it easier and faster for users to authenticate and access networked Multifunction Products (MFPs). Issued cards can manage user privileges, such as restricting the use of color, regulate scanning and provide users with secure printing of confidential documents.
About the Card Authentication Package
The Card Authentication Package provides an automated process for authenticating a user for access to MFP features and functionality, leveraging standard card reader technology. Installations with greater than about 500 users also require the Card Authentication Server software.
Major Applications
MFP Access Control to eliminate unauthorized usage
Security of information assets
Reduce everyday operating costs
Improved business processes and user efficiency
Benefits
Reduces output costs, for example by restricting the use of color only to authorized card holders
Improves security and workflow efficiency with scanning processes based on card credentials (when used with GlobalScan NX)
Protects confidential documents using card access to release documents for printing when sent to shared MFPs (when used with Enhanced Locked Print NX)
Establishes accountability through cost tracking tied to the identity of individual users (when used with Smart Accounting)
Click here to learn more