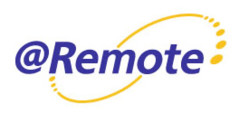 Intelligent Remote Management System
With @Remote Office, collection and submission of meter data can be automated eliminating the manual collection and reporting of meter data. @Remote Office utilizes a single, thin-server type appliance to collect and report device data, automate service and toner alerts, and enable remote firmware upgrades. In addition, @Remote's secure, web-based reporting portal transforms captured data into valuable population, utilization, trending and Green Reports.
About @Remote Office
The @Remote Office appliance facilitates device management for a networked fleet of Multifunctional products and laser printers
Collects and submits meter data on a schedule that meets your needs
Intelligent alerts automatically notify service providers of Ricoh devices needing service and toner*
Enables remote scheduling and completion of individual firmware upgrades
Provides access to device utilization reporting via a secure web-based reporting portal
Certified under ISO15408 / Common Criteria Certification: Assurance Level: EAL 3
@Remote Office manages up to 100 Ricoh devices and monitors up to 500 3rd party devices.
@Remote Office 1000 manages up to 1,000 Ricoh devices and monitors up to 1,500 3rd party devices.
-Note- *Ability to provide automation of service and toner alerts is based in part on the capabilities of the service provider.
Major Applications
Automates the external communication aspect of device management
Eliminates manual meter collection and submission
Provides visibility to networked output device population and usage trending
Provides Green Reports for Ricoh devices
Benefits
Increased device up-time
Automatic, accurate, timely meter reads and billing
Eliminates need for manual meter collection and reporting
Usage reporting for the device fleet is accessible via a secure (HTTPS) website
Provides usage data to enable you to match device location to work load, optimize efficiency and reduce TCO
Click here to learn more